Qualimach Specialities - Press Brakes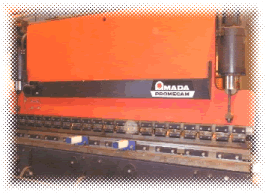 Search our current Press Brake Stock
On display at our Sheffield showroom are used conventional and Multi axis CNC hydraulic press brakes, ranging in size from 15 to 250 tons, bed lengths from 1250 to 6000 mm. LARGER MACHINES to 1000 ton capacity have been supplied during our 25 years as a market leader.
Manufacturers include AMADA PROMECAM, EDWARDS PEARSON, LVD, HACO, BRONX, MEGOFORM, ADIRA, GUIFIL, KINGSLAND, DURMA, CINCINNATI, PACIFIC, SAFAN, K&B, TRUMPF, PULLMAX.
All machines may be viewed under power at our Sheffield showroom, bending tests welcome.
Search our current Press Brake Stock