Wanted Machinery - Worldwide Machinery Search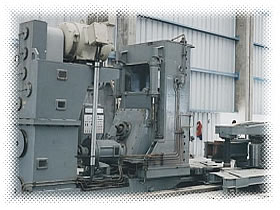 Wagner Forge Ring Rolling Machine

Davy 2000 ton Open Die Forging Press
If we don't have the machine you require we will use our experience and extensive contacts Worldwide to find it for you.
Qualimach have located all types of machines, especially large & rare machines to satisfy customers specific needs.
Successes have seen machines located all around the World for shipment direct to customers premises:
WAGNER Forge Ring Rolling Machine Located in BELGIUM & Supplied together with 1000 ton Forging Press to MEXICO.
HAEUSLER 3000mm x 100mm capacity Plate Bending Rolls from the UK to IRAN.
SENDZIMIR Rolling Mill from UK To INDIA.
DAVY 2000 ton Open Die Forging Press & DAVY 25 ton Rail Bound Manipulator from the UK to AUSTRALIA.
All types of machines from individual to complete plants weighing several hundred tons have been supplied
Following location Qualimach provide "A Complete Service To Industry Worldwide " for dismantling, shipping and re-installation with commissioning if required.